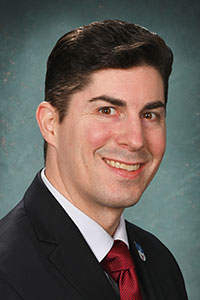 SENATE
Sen. Michael D. MacDonald was elected to the Michigan Senate in November 2018 to represent the 10th District.
MacDonald serves on the Appropriations Committee, Economic and Small Business Development Committee, and the Health Policy and Human Services Committee. As a member of the Appropriations Committee, he serves as vice chair on the Licensing and Regulatory Affairs subcommittee and as a member on the subcommittees for Transportation, Universities and Community Colleges; General Government; and Community Health/Human Services.
EDUCATION
MacDonald graduated from De La Salle High School, where he now serves on the Alumni Board of Directors. Michael studied at Macomb Community College before earning his Bachelor of Science degree in exercise science from Western Michigan University, a master's degree in business administration from Oakland University and a doctoral degree in health administration.
PROFESSIONAL
Michael worked in the health care field as an exercise physiologist and personal trainer for almost a decade before going on to work as a financial representative for Northwestern Mutual.
COMMUNITY SERVICE
MacDonald is a former vice president of the Michigan Air Force Association and serves as a board member of the Friends of Macomb Township Foundation and as a member of the Clinton Township Kiwanis Club. Additionally, he serves as a doctoral mentor to assist those pursuing their doctoral degree.
PERSONAL
Michael is a lifelong resident of Macomb County. He lives in Macomb Township with his wife Lauraanne and their daughter Evelyn Michelle.